Don't Let The Season Take You By Surprise  
Safety first. Enjoy the peace of mind that comes with knowing that you're prepared for the road ahead with our BMW Northwest Winter Preparedness Kit.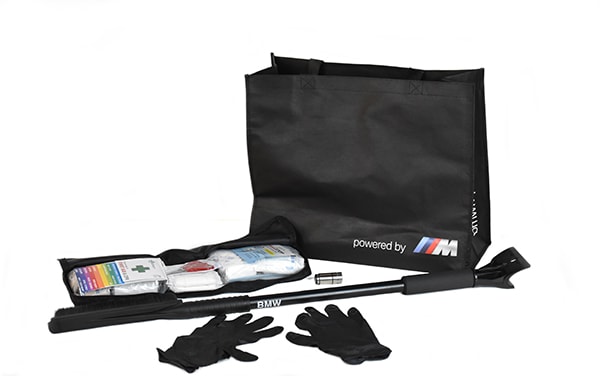 Kit Includes:
Rechargeable LED Flashlight:
Power-saving 5 mm high-power diode provides excellent brightness of approximately 10 lumens. Rechargeable via a 12-volt power outlet.
Trunk First Aid Kit:
On-the-road first aid essentials in a nylon bag. Saddlebag design custom fits in the trunk. 
Contents:
Adhesive Strips, Sterile Gauze Pads, Stretch Gauze, Bandage Dressing, Triangular Bandage, Survival Emergency Blanket, Adhesive Tape, Cleansing Towelettes, Insect Sting Relief Pads, Feminine Napkin, Scissors, Elastic Bandage w/ Metal Clips, and First Aid Instruction Booklet.
M Performance Non-Woven Carrier Bag:
Soft, lightweight multi-use bag stores all of your Winter Preparedness Kit essentials.
Snug-Fitting Technician Gloves:
These gloves fit snugly to allow for an excellent grip when completing any repairs while still keeping your hands clean.
Visit our Parts Department to pick up this exclusive Winter Preparedness Kit for only $60, while supplies last.
Not near our showroom?
Call us at (253) 922-9161
to make your purchase via phone and we'll ship it to you. 
Now's your chance to get behind the wheel and make your road home even safer and merrier.