New 2021 BMW X7 for Sale in Tacoma, WA 
For quite some time the X5 was the ultimate BMW luxury SUV, but a couple of years ago now BMW went and outdid itself yet again by introducing the stunningly opulent X7 as its new flagship SUV. The commanding presence of the X7 is only topped by its fantastic performance and stunning interior, and even for a car of this class and price, it comes with a stellar inventory of standard equipment and features.
If you want to look and feel the part driving around North End, Ruston or Northeast Tacoma, the X7 is the vehicle to be seen in these days.
Far more than just a luxury ride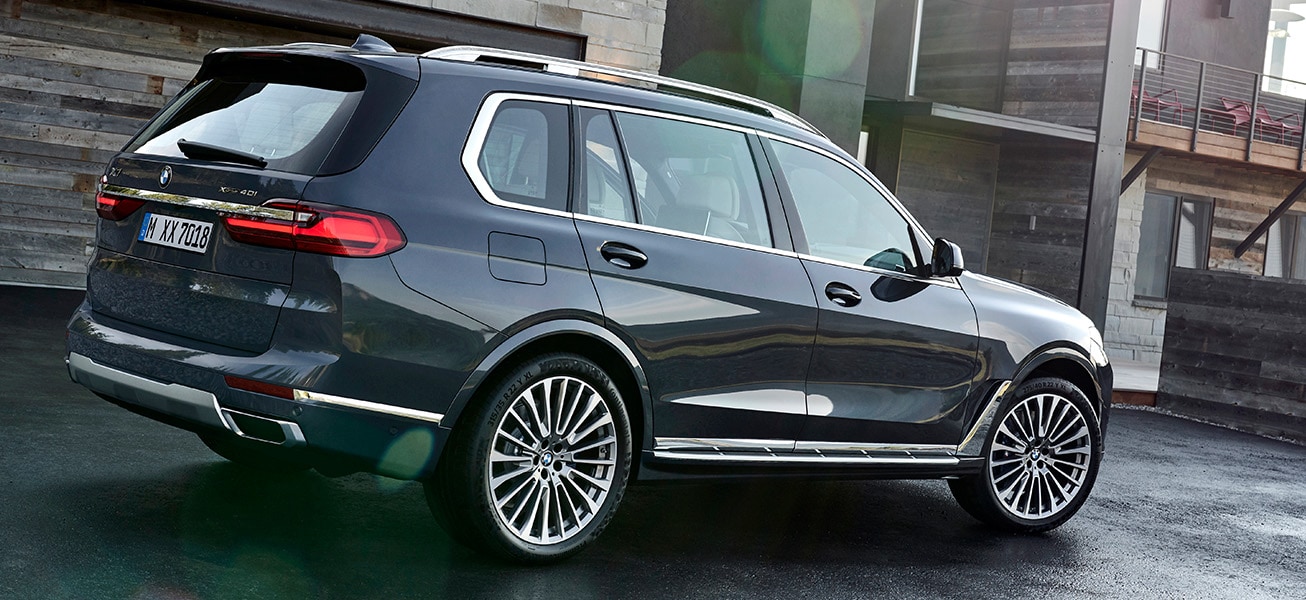 It would be easy for BMW to drop a big, smooth, purring V-12 under the hood of the X7 for an incredibly quiet and effortless riding experience, but that's not really the way BMW rolls. The X7 may be big, practical and incredibly luxurious but it also packs a mighty punch too, courtesy of engines usually found in some of its finest performance cars.
All three available engines are turbocharged and you can make a good case for choosing every one of them. The first of the trio is a 3.0-liter turbo-six that develops a more than reasonable 335 horsepower and 331 lb.-ft. of torque, which goes to all four wheels through an eight-speed automatic transmission and can propel the X7 from 0-60mph in just 5.8 seconds. Next up is a 523 horsepower 4.4-liter turbo V-8 which also gives the big SUV 553 lb.-ft. of torque to play with. If you're interested in the 0-60mph time, this one would get you there in 4.5 seconds.
If your pockets are deep enough you can also have a 4.4-liter twin-turbo V-8 that really puts a cat among the luxury SUV pigeons with 612 horsepower, 590 lb.-ft. of torque and a 0-60mph time of 4.0 seconds. That's right; a three-row full-size SUV weighing-in at 5,860 pounds that gets to 60mph in four seconds. And of course, there's no such thing as a 2021 BMW X7 without all-wheel-drive.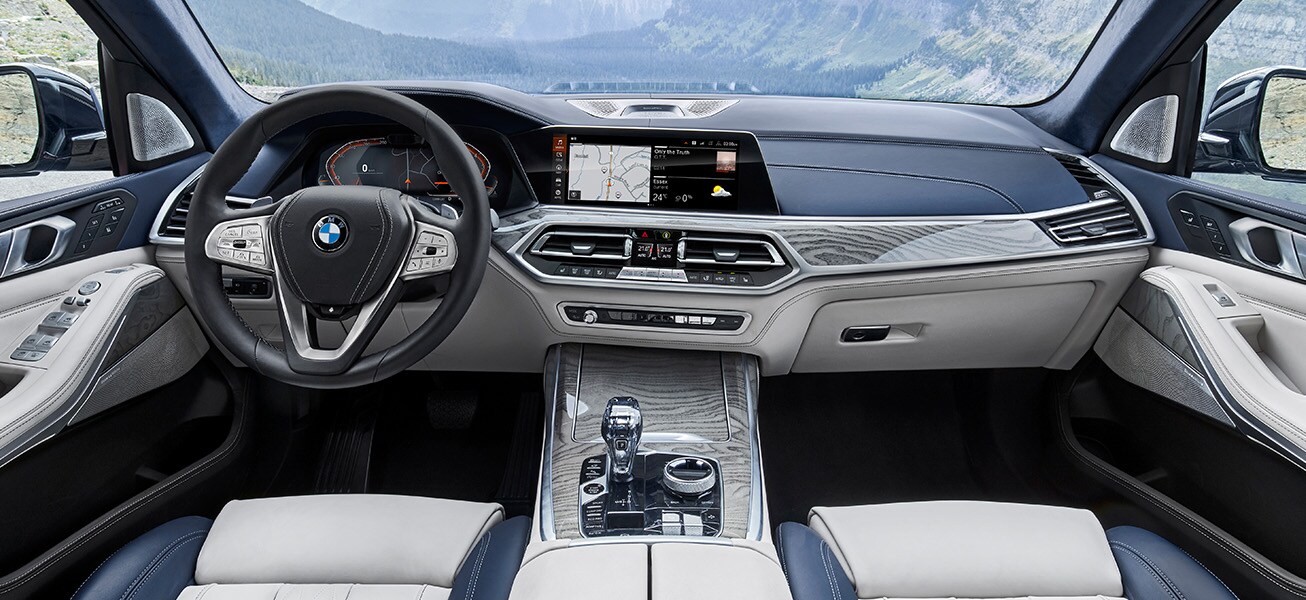 The ultimate balance of just about everything
At this end of the auto market, you can be forgiven for expecting a lot from a car of this quality. To say the interior of the BMW X7 delivers in every area would be something of an understatement. Producing a spacious full-size SUV that seats up to seven isn't too difficult, but producing such a vehicle that also delivers a perfect balance of quality, comfort, luxury, style and luxury is quite a task.
When a standard interior comes with heated armrests and 16-way power-adjustable and heated front seats, you know you're sitting in a very special vehicle. Anyone sitting in the second-row seats will appreciate the 37.6 inches of legroom and the extra comfort of the available captain's chairs, while those who have to sit in the third-row will also appreciate the ease of access provided by the power-sliding second-row.
There are plenty of storage spaces and cupholders throughout the cabin, but somehow BMW has even managed to stop such overt practicalities from cheapening the interior ambiance in any way. The X7 might be capable of taking you and your passenger through some pretty rough trails in Okanogan-Wenatchee National Forest, but as a passenger sitting inside you'd hardly even notice the pavement had run out.
Apply for Financing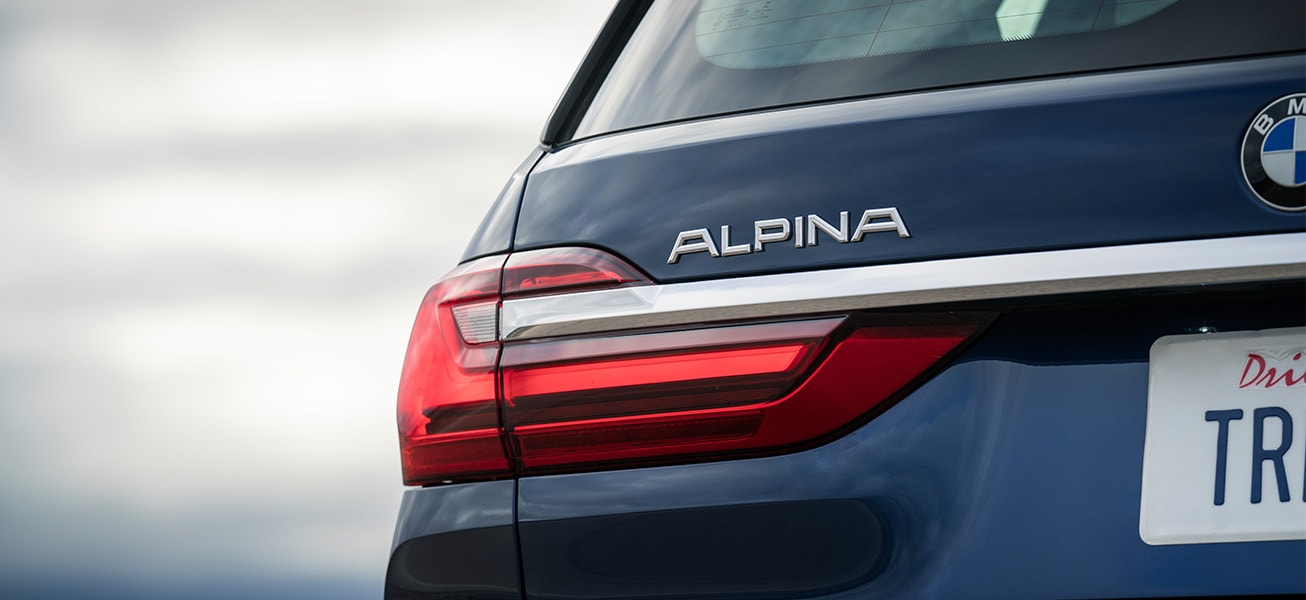 Three distinct models
The X7 doesn't really have trim levels in the traditional sense, and that seems perfectly appropriate as you wouldn't and shouldn't want to call any X7 an "entry-level model." Instead, buyers have three very distinct X7s to choose from, which are the xDrive40i, the M50i and the stunning Alpina XB7.
Each model is based on one of the aforementioned three powerplants, they're all bristling with the latest tech and safety features, and every model also comes with a generous 4-year/50,000-mile warranty and a 3-year/36,000-mile complimentary scheduled maintenance service.
Test-drive BMW X7 in Tacoma, WA
The 2021 BMW X7 probably isn't absolutely perfect, but it's definitely pretty close and could very easily be the perfect full-size luxury SUV for you.
Don't just take our word for it though. Come and see this incredible vehicle for yourself and experience it with a test-drive with BMW Northwest at our modern, friendly dealership that's conveniently located at 4011 20th Street East in Tacoma, WA.
Make an Inquiry