EVENTS
JUNE
Saturday June 4, 2016
Wheels and Heels: High Stakes & Hot Cars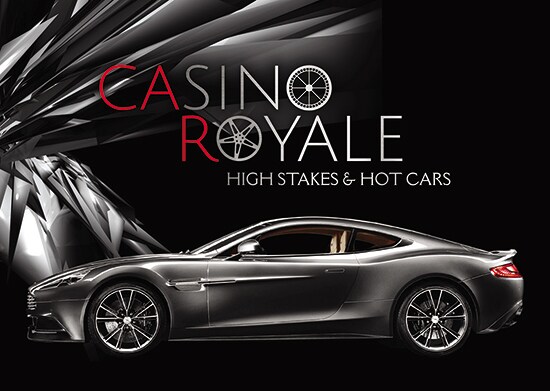 The Wheels & Heels Annual Gala is a celebration of the anniversary of LeMay - America's Car Museum. This is the Museum's largest fundraiser in support of its commitment to celebrating America's love affair with the automobile, their focus on education programs and the Hagerty Education Program at America's Car Museum.Leave your keys with the valet as you rendezvous on the Anderson Plaza. Soak in the sultry sounds of 007 while taking a commemorative photo with a James Bond inspired Aston Martin and marvel at the Goldfinger statues.

Test your luck at the silent auction and raffle; or step up and place or bets at the blackjack tables while enjoying the new "BMW - Propelling a Century of Innovation" exhibit. Delight in gourmet cuisine from El Gaucho and a thrilling live auction featuring a new 2016 BMW M4 GTS special edition M4. After dinner, spin the roulette wheel and enjoy a Montecristo cigar while gazing at the fireworks display unlike any other.

On the auction block is an all-new 2016 BMW M4 GTS provided by BMW North America and two separate trips to Monaco with 4-star accommodations in Monte Carlo: one which features tickets to the world-renowned 2017 Monte Carlo Gran Prix.

LEARN MORE

Friday, June 17, 2016
Pacific Northwest Karting Challenge 2016

The Pacific Northwest Karting Challenge is an exciting kart race event held at PGP Motorsports Park, located at Pacific Raceways in Kent. Every year up to 25 teams, each consisting of 4 drivers, compete wheel to wheel in this fun-filled endurance race, as teams race to raise the most money for Seattle Children's Hospital and to be the fastest lapping team on the track!

We're certainly excited to be raising funds for Seattle Children's Hospital and the Uncompensated Care fund. Donations big or small, we'll take them all.

Click to support our team fundraiser.

Friday-Sunday, July 1-3, 2016
Pacific Northwest HistoricsPacific Northwest Historics

BMW Northwest is proud to be the title sponsor for the 2016 Pacific Northwest Historics, a volunteer-driven event sanctioned by SOVREN (Society of Vintage Racing Enthusiasts) Race Club and the SOVREN Guild of Seattle Children's Hospital. The Historics is the premier vintage sports car race in the Northwest and the largest charity motorsports event in the United States. In 2015, the Pacific Northwest Historics raised $467,000 for Seattle Children's. These fundraising efforts will improve the lives of many families with children in need.
While the Guild's effort is for charity, don't be misled. The car owners, drivers and crews are in it for the racing. The Pacific Northwest Historics is one of the most popular vintage races on the West Coast, drawing competitors from most western states. In past years, drivers have traveled from as far as Hong Kong, Australia, New Zealand and Europe.

There will be plenty of action in store for BMW fans. We'll have a unique selection of cars on display as well as diverse collection of accessories available for purchase to help you commemorate your Pacific Northwest Historics 2016 experience.

Have you ever wanted to experience an edge-of-your-seat, exhilarating ride in a PRO3 race car? Well, now is your chance! These demos rides cost $250 with all proceeds benefitting Seattle Children's Hospital. Tickets can be purchased on-site at Volunteer Services, at Vendor Row, or by calling Elna Duffield at 206.779.5046.

Are you ready to revel in all of the action?

Click to LEARN MORE.