BMW Tire Road Hazard Protection Program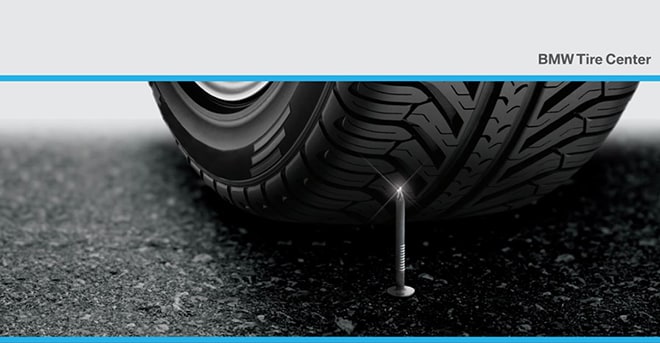 Eligible tires purchased at any BMW location, on February 2, 2018 or later, include 12-month road hazard coverage. 
This provides you 100% replacement coverage in the first year of ownership.
The BMW Road Hazard Protection program provides coverage for 12 months from time of purchase in the event of damage to your tires as a result of metal, nails, glass, debris, potholes, blowouts, etc. (excluding cosmetic damage). Your affected tire will be replaced at no cost to you (excluding labor, tax and any shop fees).
Important Features:
Replacement of flat or damaged tire due to road hazard.
Coverage of product cost associated with the replacement of affected tire(s), excluding wheel(s) and labor charges including mounting, balancing, valve stems, tire disposal and taxes. 
All vehicle tires are covered as long as they have more than 2/32" of tread at the time of damage and were purchased after 2/1/2018.
Tires will be replaced using original equipment manufacturer (OEM)-approved tires and associated parts.
Customer Benefits:
Peace of mind. You no longer have to worry about unnecessary financial hardship in the event of damage due to a road hazard. We have you covered.
Damaged tire(s) will be replaced, not plugged or patched.
Services may be completed at any BMW dealer in the United States.
To submit a claim, the customer must present their original invoice showing the purchase of the tire.
Please speak with a BMW Northwes Parts or Service Advisor for complete details.