2020 BMW for Sale in Tacoma, Washington
People rightly expect a lot from any BMW, but they expect even more from a flagship model like the 2020 X7. The good news is this full-size, seven-seat luxury SUV delivers in every way you'd want and expect it to, but it can go way beyond just what's "expected." Whether your key priority is power, performance, comfort, luxury, capability or versatility, the 2020 BMW X7 delivers and then some.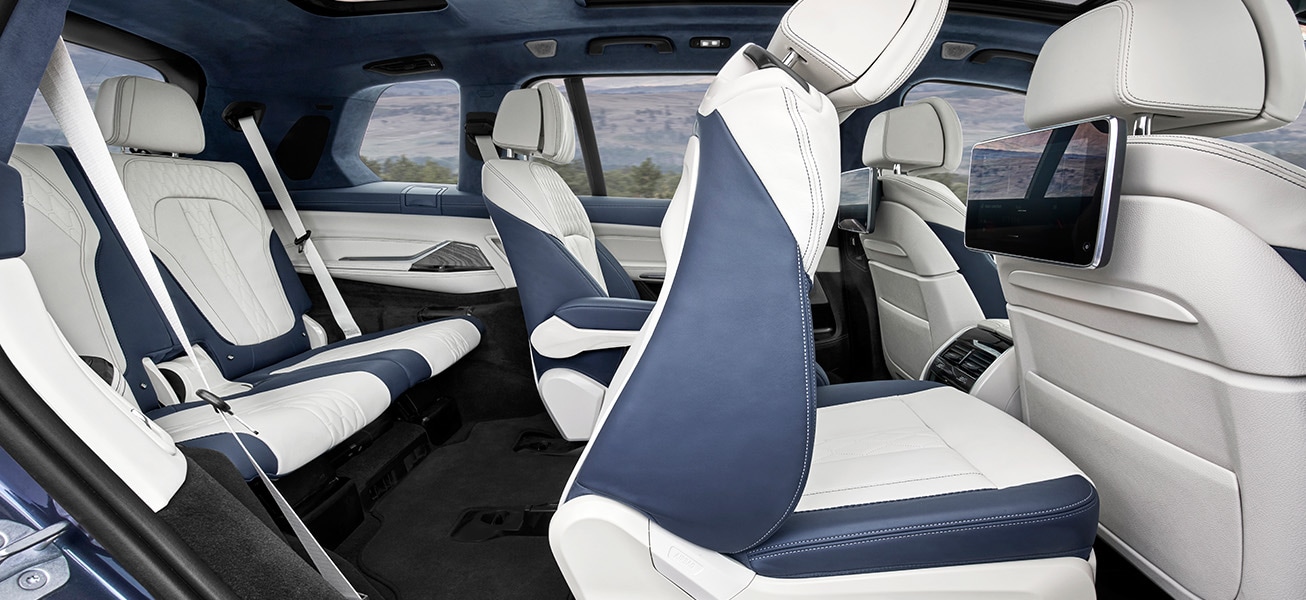 Make a Big Impression
It doesn't matter which segment of the auto industry a vehicle is competing in, it has to look the part. That's especially the case when you're competing at the very top of the market where the impression a vehicle gives is so important. The styling of the X7 is unmistakable as a close relative of the X5, but this flagship model is several inches longer with a bigger nose and it wears this more regal and imposing look extremely well. The designers have pulled off quite a trick with the front of the X7. Although it's obviously a big beast, the grille borrowed from the 7 Series and the slim LED headlights give it a modern, sporty look. The elongated side profile is perhaps what distinguishes this model from the X5 most, but unlike some rivals, the rear of the X7 is perhaps even more attractive than its sporty front fascia.
Three flavors of excellence
It would be laughable to use terms like "entry-level" or "base model" when it comes to a vehicle like this, but despite its exalted status, there are still three different trim levels of the X7 to choose from. Of course, these three versions are only the starting points for configuring the vehicle of your dreams. X7 xDrive40i: Let's call this the starting point of the X7, even though it looks and feels like a range-topper when compared to the competition.  All-wheel drive, synthetic leather upholstery, 21-inch alloys, adjustable air suspension and a panoramic moonroof are just some of the many, many features the xDrive40i comes standard with. xDrive50i: The main difference between this model and the xDrive40i is a bigger engine. You're not paying more for the likes of power-adjustable and heated front seats, quad-zone climate control, a power tailgate, wireless phone charging or the 12.3-inch touchscreen infotainment system, because they're all included with the xDrive40i too. M50i: The M50i builds on the power and performance of the xDrive50i, but this one does add a lot of extra upscale features such as laser LED headlights, a head-up display, premium audio, a sport-tuned exhaust system, 22-inch alloys, sport brakes, a sport differential, soft-close doors and a fabulously opulent leather interior.
Apply for Financing
Power to spare
An X7 fully loaded with people and cargo is a weighty vehicle, but it has two of BMW's finest engines available to make light work of any task you ask of it. The xDrive40i comes with a turbocharged inline-six that develops 335 horsepower and 330 lb-ft of torque, and it sends all that power to the standard all-wheel-drive system through an excellent eight-speed automatic transmission.Both the xDriveX50i and the M50i have a 4.4-liter V8 twin-turbo under their hoods that comes from some of the German automaker hottest performance cars. In the xDrive50i the engine puts out 456 horsepower and 476 lb-ft of torque, and that gets it from 0 to 60 mph in just 5.2 seconds and onwards to a top speed of 130 mph.If that's still not rapid enough for you, in the X7 M50i the engine is tuned to produce a staggering 523 horsepower and 553 lb-ft of torque. That means 0 to 60 mph in just 4.5 seconds and performance that will have you forgetting you're driving a three-row, seven-seat SUV.
Visit us in Tacoma for your X7 experience
It's difficult to put into words just how magnificent the 2020 BMW X7 is and how it sets new standards those wanting a seven-seat SUV that's much, much more than just a seven-seat SUV.Representing a brand like BMW that is so synonymous with quality, performance, luxury and precision is quite a responsibility, and the team here at BMW Northwest takes that responsibility seriously. As well as an extensive inventory of some of the finest vehicles the auto industry has to offer, you'll also find a friendly and highly professional customer experience with service that's second to none.Get in touch with us today by calling (253) 922-8700 with any questions you might have, and book yourself a test drive in the fabulous 2020 BMW X7 at our dealership located at 4011 20th Street East in Tacoma, WA.
Sorry, no items matching your request were found.
Reset Search
Make an Inquiry